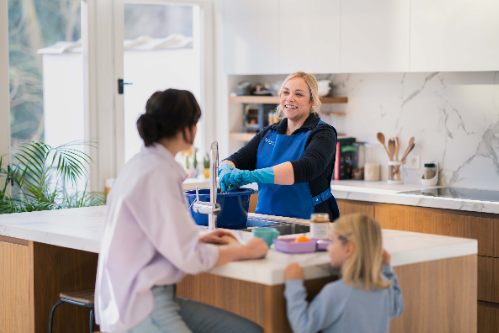 Household help
Vacaturedetails
Match criteria
Contracttype
Onbepaalde duur
,
Voltijds
,
Deeltijds
What is the job?
You will be cleaning and ironing with regular clients. You take care of their house with happy people in return!
You work in your own region and you can choose when you work (in agreement with Helan and the client, between 8 am and 5 pm). Do you already have your own clients? Feel free to bring them with you, you'll receive an extra bonus.
Would you like to start up ironing from home? You build a client base yourself before you start. We're happy to provide you with the necessary promotional material.
In short, there are 3 options for you at Helan:
You work for clients as a domestic help.
You work for clients as a domestic help and you iron from home.
You only iron from home.
Who are you?
Housekeeping is your passion, you're enthusiastic and motivated
You can work independently and plan your tasks well
You take initiative and ask your customers about their expectations
You can move flexibly depending on the possibilities in your region
You can have a basic conversation in Dutch, English or French
What do you have to be able to do?
Dust and clean floors, furniture and objects
Maintain (wash, sew, iron) and store clothing and other textiles
Planning, organizing and working independently
Communicate and help your clients
What is Helan able to give you?
You immediately receive a permanent contract
Taking over your seniority in the service voucher sector is negotiable
You choose the number of hours and days you work
You get regular customers in your own region and/or iron from your home
You'll receive a good wage, holiday pay and an end-of-year bonus.
You'll be reimbursed for telephone use, washing your work clothes and travel expenses. We provide a subscription for public transportation (De Lijn) if this is your main way of commuting.
You'll receive work clothing
You'll receive meal vouchers starting from 6 months of seniority within the service voucher sector
You can earn an extra bonus by referring customers or colleagues
You'll receive discounts in the Helan Zorgwinkel
You can lease an (electric) bicycle
You'll receive training and personal coaching
You'll work for a stable employer in full growth and start up in a warm, people-oriented organization.